Hello, I am Bruneau.
I moved to Kaiserslautern 4 years ago (2012) from Mauritius with my family (currently 2 sons born in Germany + wife).
All started by buying a syma x4 some days before Christmas 2015…which flew away just when starting to understand LOS after some weeks 🙁
But too late!!!!, found myself already addicted and would like to fly like Neo! So I decided to build a 180mm dalrc…everything from Bandgood and learnt how Zoll comes into picture 😛
180mm dalrc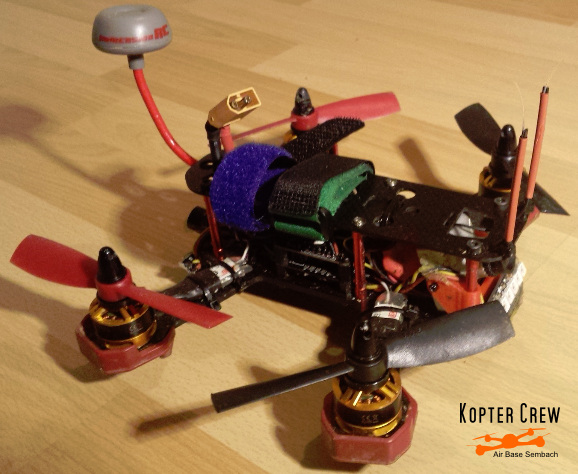 FC: Afro Rev 3 with Betaflight 2.9
Akku: 3s
Frame : Dalrc 180mm
Motor : Dys 1806 2300kv
Prop : DALPROP 4045 Bullnose
Esc : Dys 16A
RX : Frsky X4RSB
Vtx : Quanum 25mw
Cam : Runcam skyline
Then realised how FPV was difficult (with Dominator V3) and could not pass the "first jump test". Continued to master LOS and met some friends online "FPV HomeRacer-Germany" and build "moustik" (Mosquito in creole)
FC:Scisky (with betaflight)
Motor:Chaoli 8,5mm Brushed
Frame: Gaffa V2 (designed by a friend) – polycarbonate
VTX: FX MM213TL 5.8G 32CH 25mW Wireless Audio Video AV Transmitter Module
Cam: 600TVL 1/4 1.8mm CMOS FPV 170 Degree Wide Angle Lens Camera PAL/NTSC 3.7-5V
Prop: 55mm
With this, I could start my first FPV and at the same time met Copter Crew!…and still having fun to fly with it in front of the house or in Volkspark!
Then I started to use the dalrc 180mm fully J
And started to dream about Mitsuko!!!!
But before that investment, I wanted another small X but as solid as the DalRC, therefore just finished the build of Bourdon 130 (Xylocopa)…a budget one!: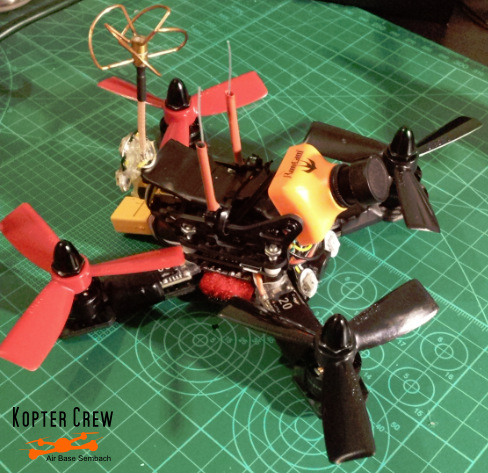 FC: Afro Rev 5 with Betaflight 2.9
Frame : Carbon-Posten und Modellbau 130mm (he was proposing 120, but I negotiated that he cut a 130mm for me, like the falcon 130)
Motor : Roboterking 1306 4200KV
Akku : 3s
Prop : DALPROP Propeller 3045 3-Blatt Bullnose
Esc : Little bee 20A (could not have imperial march on it L )
RX : Frsky X4RSB
Vtx : Quanum 25mw
Cam : Runcam Swift
This one, will come with me on holidays J
Hope to see you all at Sembach! Where everything happens…in the air! Visit my YouTube-Channel.